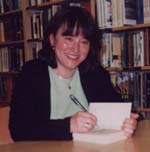 Arabella Weir



Arabella Weir began her career with ambitions of being a 'serious' actress, attending a London drama school and working in regional theatre. But when she started working professionally, Arabella found that she was repeatedly offered comic roles, "Just because of what I'm like... sometime's I got the serious part but they usually realised they'd made a mistake".

Arabella ended up leaning more and more towards a career in comedy, writing comic articles for magazines and working on TV with Alexei Sayle, Harry Enfield and Lenny Henry. And once she'd settled, she knew that it was where she belonged. Arabella has now been working almost exclusively in comedy for the past 13 years.

Her real big break came when she was approached by Paul Whitehouse and Charlie Higson, who asked her to write some female parts for their work in progress, 'The Fast Show'. It was here that Arabella was given the opportunity to write and perform her own characters including 'No Offence' and 'Girl Boys Can't Hear', which flung her into the public eye.

"The only way really to do any comedy properly is to write your own stuff"

While she wasn't immediately transformed into a household name like her male counterparts, Arabella's repertoire is arguably more diverse as a result. While Paul Whitehouse is possibly most famous for his 'Suit You Sir' character, it is hard to pin down Arabella to just one of her talents.

She has worked in film ('Shooting Fish'), TV drama ('My Summer With Des') and even presented a series of Channel 4's fashion show 'She's Gotta Have It'.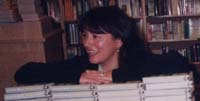 However, if you were forced to pick one of Arabella's roles as being the most prominent it would have to be 'Insecure Woman'. This universal 'Fast Show' character whose catchphrase 'Does My Bum Look Big in This?', gave Arabella the title of Best Selling Novelist to add to her CV. What began as a series of short comedy sketches developed into the funny and moving story of one woman's battle against her own insecurities.

The success of 'the bum book' as well as the urge to keep writing, led Arabella to write a second novel, 'Onwards and Upwards'. Not as autobiographical as 'Does My Bum Look Big in This?', it is still broadly based on her own experiences, telling the story of three girls who meet at school and remain friends for over 30 years. Greatly praised by critics and fans alike, 'Onwards and Upwards' has been described as "skilful, fresh and startlingly funny" (The Observer).


Alongside her two novels (plus a third on the way!), Arabella continued to work on 'The Fast Show', in a total of three series, numerous specials (possibly the last batch to be broadcast around Christmas 2000) and a live tour.

She also co-starred in the first series of the BBC 2 sitcom 'The Creatives', playing Jack Docherty's domineering wife. She recently graced the radiowaves alongside Prunella Scales in Radio 4's sitcom 'Smelling of Roses', and is currently working on her own sitcom idea alongside writer Jon Canter (Murder Most Horrid, among others). This new project will be another adaptation of a 'Fast Show' character, this time developing 'No Offence', the hideous and insulting cosmetics sales girl. Arabella initially got the idea when a rude taxi driver told her he hated 'The Fast Show', and decided to make the character a make-up woman because they're always incredibly insulting and yet look awful themselves.

So although Arabella Weir probably has the most famous bum in Britain, there is a lot more to her than a rear end.
---
PICTURES AND SOUNDS
---
Buy Arabella Weir books online:

"Does My Bum Look Big in This?" £5.59 £5.59
"Onwards and Upwards" £4.79 £3.00
---
&copy 2000, Caroline Marshall. All rights reserved. (Thanks to Arabella for the interview!) carolinescomedybase.tripod.com